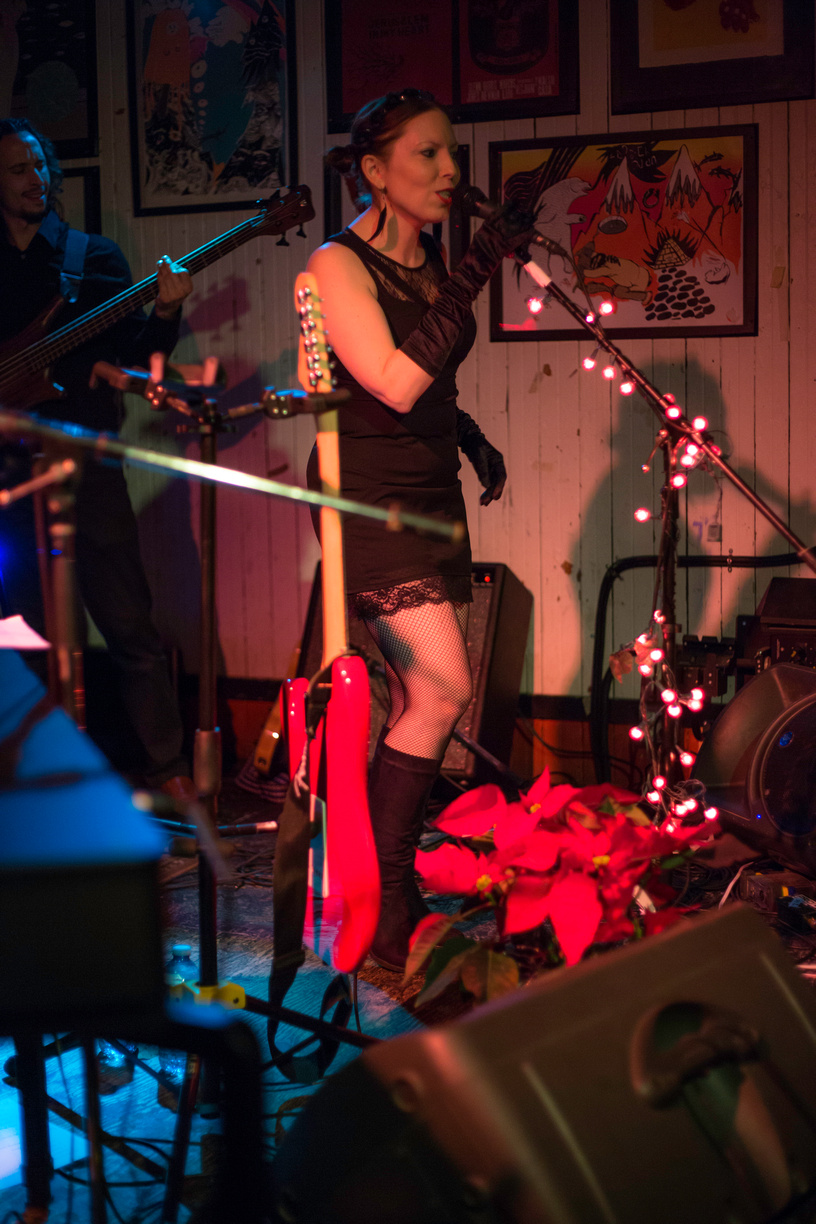 Photo by: Bruce Toombs - Kimberly & the Dreamtime, Montreal, Dec 21, 2015
FREE CHRISTMAS! 
           by Kimberly Bourgeois
Nothing lights up my eyes like the sight of fresh starry snowflakes shimmering beneath street lamps. No matter how old I get, I still find something promising and magical about the month of December. 
Yet, it's also around this time of year I start to hear folks grumble about the stress and cost of Christmas. Those of us who celebrate this holiday in North America know the drill: rack up credit cards with presents, ornaments, and vacation packages, then parcel it all up in paper and tinsel destined for the dump on January 2. We've probably all shared in these consumption rituals to lesser or greater degrees. And most of the time, we've probably meant well. After all, gift-giving is an important way of showing our appreciation for loved ones. And, as humans, we all want to love and be loved, right? It's one of the things that's cool about us.  
What's not so cool is how our overconsumption is destroying the home that sustains us. 
I've been talking and singing about this for years, but this Christmas more than ever has me thinking about our future. With scientists now saying the Earth's sixth mass extinction is underway, it's clear we have to do more than just talk. As we witness the heartbreaking biological annihilation of wildlife, we humans are waking up to the fact that our own fate is inextricably intertwined with that of our planet's plants, animals, and microorganisms. They are the foundations of our web of life. Given how quickly they're disappearing, it's becoming evident that if we're going to make it, we have to change—not slowly over time, but today. 
Please don't read me wrong. I'm not suggesting that we turn cynical, stop celebrating, or curb our generosity.  At the core, there's something inspiring and beautiful about all our efforts to surprise and delight our beloveds.  What I am suggesting is that we radically re-think the nature of our offerings. Must our gifts always be material, for instance? Or could they consist of something less tangible, yet possibly more profound, like our undivided time? Could our PRESENTS consist increasingly of our PRESENCE?  
I'm not saying that material gifts are always bad; in fact, if you look around, it won't take long to find people in genuine need of such offerings. There are plenty of folks who lack basics, like winter boots and coats—and even food. Nor am I suggesting that gifts must be strictly utilitarian. Our souls need beauty—the kind Nature provides as well as the kind we create through our culture. But I do believe that if we buy anything new these days (vs. the often preferable second-hand), we need to consider our purchase's impact and staying power. Is it useful? Is it made to last? How is it packaged? Will it delight, empower, educate, or enrich the individual in the long-term, or will it  quickly wind up in the trash, broken or replaced by something trendier?  
Within the context of climate crisis, buying frivolous stuff for people who clearly already have way more than enough (including ourselves), just for the sake of satisfying social conventions, seems reckless. Also, isn't it crazy that in our consumer culture value is defined mainly by the amount we spend? Especially when you consider that, for all our spending, so many of us feel deeply impoverished?    
WHAT I'D LOVE TO SEE MORE OF THIS CHRISTMAS is the type of creative gift-giving mentioned earlier. Offerings of time and attention. As the pace of life continues to quicken, I suspect it's what most of us deeply crave anyway. I know I sure do. Time spent carolling, dancing, journaling, storytelling, baking, crafting, tobogganing, strolling, reading, stargazing, snow-angel making, skating, meditating, talking, listening… Or, how about checking out local talent? Could the time formerly allotted to shopping be invested in visiting an art gallery, attending a poetry reading, or taking in a live, independent musical act?  Many of these things can be done at little to no cost and leave less of a footprint than buying a bunch more stuff—especially if you keep your activities close to home, so you can walk or take public transit, avoiding car and air travel. And let's be honest: doesn't RECONNECTING with each other and ourselves sound way more fulfilling than all those trips to the mall? 
There is a song on my first EP that addresses this very idea. It's called BUILDING A TRADITION. You will find the lyrics at the bottom of this post. In the spirit of "freeing up" Christmas, I'm offering it for download at no cost, between now and January 2, 2018 (see link below). I'd love for this song to factor into your quality time this season, and maybe even become one of your listening traditions. If it gets you up dancing, all the better. 
If you've already purchased it, I thank you, and invite you to "gift" this link to your friends so they might also enjoy it. If you'd like to leave a donation in exchange for the work, you can (this is the kind of gift I appreciate most, as it helps me to keep doing what I do), but you shouldn't feel obligated. Any amount—big, small, or nothing at all—is perfectly acceptable.  
What matters most to me now is spreading the message conveyed in the song, which is to shift our focus from overconsumption to CONNECTION.  It's an important message year round, but since consumerism peaks during the holidays, let's use this season to our advantage. 
This year, the greatest gift we could possibly offer our future selves is to finally awaken from the nightmare we've collectively created and BEGIN DREAMING A MUCH BETTER DREAM. Let's free Christmas of its costly conventions and start building new traditions—the kind that actually support our magnificent selves and beloved Planet Earth.  
Wishing you much love this holiday season,  
Kimberly 
Until January 2, 2018, click link below for free download:

BUILDING A TRADITION - download link
 
BUILDING A TRADITION WRITING CREDITS: Lyrics by Kimberly Bourgeois; music by Christian Pelletier. MUSICIANS ON THIS RECORDING Voice: Kimberly Bourgeois; Guitar: Scott Diffee; Grand piano and organ: Daniel Loyer; Drums: Daniel Zanella; Bass: Jerry Catanescu; Violin: Norman Nawrocki.
building a tradition 
   Lyrics by Kimberly Bourgeois
Tonight, if it weren't   
for the ribbons of light,   
the chaos of colour   
tying up the city  
like an overstuffed package,   
would we even know   
it's Christmas?  
The heavens are dropping out,  
drizzling with the kind of disappointment  
that used to get buried   
deep within November  
And I'm coming home to you,  
my heart unfolding   
like the hand of a beggar  
while Ste-Catherine Street hustles a sky   
painted grey  
for the remnants of day  
Would you hold me   
like we're building a tradition,  
a dream temple for two,  
a sleep so deep with healing  
that trust will grow anew?   
Do you remember   
when seasons used to dress up—  
December a radiant bride,   
sweeping the earth   
with her train of sequins,  
a diamond-studded blanket   
winking up at a honeymoon?  
There's nothing green about this Christmas   
but the hurried flash of cash—  
this year's gifts   
are next year's trash—  
and tonight I long for something   
a little old-fashioned,  
something I know is going to last  
Would you hold me   
like we're building a tradition,  
a dream temple for two,  
a sleep so deep with healing  
that trust will grow anew?  
Would you hold me   
like we're building a tradition,  
a midnight mass for two,  
a sleep so deep with healing  
that trust will snow anew?  
Building a Tradition ©2005 Kimberly Bourgeois and Christian Pelletier All rights reserved.